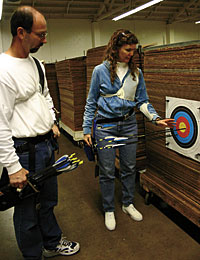 Janice Walth

with her husband by her side, feels along her target to see how she grouped her shots Tuesday night at the Grape Pavilion in Lodi. Being blind, Janice relies on her sense of touch to give herself an idea of how she did with her shots. (Laura Rouzer/News-Sentinel)
Blind ambition
By Tricia Tomiyoshi
Lodi Living Editor
Lodi resident Janice Walth takes an arrow from her quiver and pulls back the cobalt blue bow with her right hand. The back of her left hand touch a small silver piece on the black tripod device that stands next to her. She makes a subtle adjustment to her aim. Then she lets the arrow fly.
Fwop.
The arrow soars through the air 18 meters and lands — clap — on the yellow, the center of the target encircled with red, blue and black, attached to a bail of cardboard.
But Walth doesn't know how well she has done.
It isn't until her spotter, who on this evening is her husband Courtney, tells her the arrow's position. He stands two feet behind her and calls out the color and/or its location on a clock face.
"That's a good shot. Yellow," he says, before she grabs another arrow and tries her hand again.
Janice Walth, 46, is not your usual archer. She is blind. In fact, she may be the only competitive blind archer in the United States that follows the archery technique mastered by British Blind Sport, an organization in the United Kingdom that coordinates sports for the visually impaired.
"I liked archery right away," said Walth, who has long, curly wheat-colored hair and wears a sky blue velour jogging suit. "I liked the physical challenge of my body because I'm in charge. I need someone to guide me but I'm in charge of how well I do. I like that feeling."
Walth used to accompany her husband Courtney and his friend Ross Johnson to their Tuesday night practices at the Grape Festival Grounds with the Lodi Bowsmen, before they learned that there was a way that she, too, could participate.
The technique requires the use of a tripod, an adjustable bowsight and a laser pointer to align the tripod with its target. In addition, they use a couple of orange clips as foot markers and hold it all down with duct tape. Courtney Walth built the freestanding sight aid himself.
When Janice Walth is ready to shoot, she makes sure the back of her hand touches the silver button on the tripod, which gives her a reference for elevation. The foot markers give her direction toward the target.
The rest, however, is up to Walth.
Blind in childhood
Walth has been playing archery for two years, but she has been blind for years with Retinitus Pigmentosa or R.P., a degenerative condition of the retina. Typically, the disease shows up in teenagers or adults, but for Walth and her brother, it struck early.
"They didn't know I had it when I was little," said Walth, who grew up in Southern California with two brothers and one sister. "They said we were farsighted. Back in the '60s, people didn't put a name to it."
She started wearing glasses when she was only 2 1/2. Her parents figured out that she needed glasses because she would fall down the stairs.
Since then, her vision loss has been slow and steady. She lost her central vision first and then slowly the peripheral faded. But she still has light perception, which she says helps her with her orientation.
"My vision loss has been so gradual. Every step of the way, I've always known that it could progress or stay the way that it is," said Walth, matter-of-factly.
Still, being blind hasn't stopped her from living her life. She was a medical transcriber for 18 years in a hospital in Southern California, before she got burned out and decided to try computer science. She began taking PC Application classes at Fullerton Community College and it was here that she met and fell in love with Courtney Walth. Four years ago, she moved up to his native Lodi.
These days, she attends Delta College, working toward a bachelor's degree in adaptive technology for adults with disabilities. She is also a classroom assistant at Delta, teaching JAWS software, a screen reader that helps the visually impaired use software applications and the Internet.
With help from her guide dog Liza, a three-year-old yellow labrador, Walth walks to the bus stop and catches the bus to Stockton to get to Delta College every week.
"Having supportive people around you really makes a big difference," she said.
Walth credits her family for never telling her that she couldn't do something. Even when she announced as a youngster that she wanted to be a brain surgeon, they never told her no.
"I don't like to be told that I can't. It's not in my vocabulary," Walth said.
Making strides
When someone yells "Clear," all of the archers on this Tuesday night head to their targets to count up their scores and pull down their arrows.
Janice Walth holds onto Courtney's elbow as they walk the distance to their bail marked with a paper target.
Courtney Walth holds Janice's hand over the arrows so she can feel their position before he takes them out and she puts them back into her quiver, which hangs on her hip.
"9, 6, 5, 3," he says, noting the scores based on the four arrows' positions (10 points is the most points you can score per try). "Good job."
Walth smiles on their walk back on the cement floor to the shooting line.
It's all good practice for the two tournaments that Walth is competing in next month. One is the National Field Archery Association's World Archery Festival in Las Vegas. The other is the Tulare Target Archers Invitational Tournament in Tulare. In both competitions, Walth will be competing in a separate category — her own category — for blind archers that use a compound bow. (With a compound bow, the shooter initially pulls back 30 pounds until its farthest extension, at which point, the weight lets off so the shooter is only holding about 2/3 of the weight). As Walth doesn't have any competitors at present, she will be hoping to improve her own score from previous years.
So far, Walth's highest score indoors is 478 out of a possible 1200. Her highest score outdoors is 595 out of a possible 1440.
How she fares against blind archers from the United Kingdom is hard to tell. While many post their scores on the Internet, they shoot with a recurve bow (here the shooter pulls back 30 pounds to its farthest extension and the weight doesn't let up) and also classify their levels of blindness so Walth finds it difficult to know which shooters are at her same sight level.
For now, her goal is simple. She wants to be competent with sighted archers. She is not sure if that's a realistic goal yet, but it's what she is striving for.
"My goal is not to set up a blind league or get blind people together to do this. That's not my thing," Walth said. "My thing is that I want to do things with the mainstream. I don't want to be isolated."
After faithfully showing up at the Sacramento Archery Club practice shoots at Discovery Park, the group has welcomed her into the fold. In addition, the State Archery of California Association voted in blind archery as an official category in California specifically after Janice Walth lobbied for it. She hopes for the day that the United States Association of Blind Athletes sanctions archery as a blind sport so she can compete internationally.
But Walth is quick to note that she couldn't do any of this without help from the sighted. She believes that blind people interested in taking up archery need to ally themselves with a regular archery club to learn the ropes.
"Otherwise it's impossible," she said. "You need the help from people who really know archery."
Courtney Walth has seen a steady improvement in Janice's archery over the past two years.
"She's improved her body swing, which is a major factor with all archers," Courtney Walth said. "But it's all a matter of how much you are willing to put into it and she wants to perfect the sport and be good at it. But then, that's what she is like with everything that she does."
And archery isn't the only sport she is committed to. Walth also has a love for skiing, paragliding, tandem biking and waterskiing — activities that Walth does with help from Courtney.
"I'll try just about anything. I like new things," said Walth, with a smile. "The only thing I won't try is skydiving or bungee jumping."
Contact Lodi Living Editor Tricia Tomiyoshi at triciat@lodinews.com.