| | | | | | |
| --- | --- | --- | --- | --- | --- |
| Publication:The Gazette; | Date:Aug 1, 2006; | Section:Sports; | Page Number:17 | | |


TARGET DATE Blind archer is first to compete in national event By MERI-JO BORZILLERI THE GAZETTE



Janice Walth carefully pulls back her bow, anchors her hand under her jaw, then stands still and waits. When the time is right, she lets it fly.

Her arrow hits the target 30 meters away with a satisfying "thwack!"

Then, as other archers squint through their scopes to check where arrows landed, Walth waits again.

When you're a blind archer, you learn about delayed gratification.

Walth's mom, Jacquie Unitt, stands off her daughter's shoulder and looks through binoculars.

"I say, 'Three red,' or '10 white,'" she explains later.

Jacquie is acting as her daughter's spotter this week at the Archery National Target Championships that begin today at Memorial Park.

The number is the location of the arrow on the target, in clock-face terms. The colors are how close Walth, 47, got to the yellow bulls-eye.

One arrow hit red, the band next to the yellow. Most are in the white, the farthest band. A couple miss the target completely, one landing in the grass behind.

No matter. Walth has yearned for this moment, when she could partici- pate in a big competition that means something. Walth will compete in a category by herself, the first visually impaired archer to participate in the sanctioned national tournament, and this year, the only.

"I'm just really hoping to be here, shooting in an official category and just to expose everyone to the fact you can shoot blind," Walth said, sitting under a canopy at Memorial Park with her husband, Courtney, 46, a sighted archery competitor, and her mother. "I'm really excited the IPC (International Paralympic Committee) has accepted it as a sport."

Visually impaired archers now have a place at the world championships, but not yet at the Paralympics, though they are for 2012.

Walth is coached by two-time Olympic coach Sheri Rhodes. How can a blind person hope to compete in archery, where precision is everything? Being an inch off at your release point means you could miss a target by 2 feet.

"We would lose 10 arrows sometimes," said Courtney of early backyard practice sessions that utilized the tool shed wall as a safety barrier for the neighbor's house. "When we're shooting, we make sure they're not out in the yard."

Walth, from Lodi, Calif., has to aim by feel. Courtney constructed a tripod with a sight. Walth touches the knuckle of her bow hand to the sight to get the correct elevation. Homemade foot markers help position her feet, the foundation for how the rest of her body must set up. Consistent form, the ramrodstraight posture of the classical archer, is crucial.

With a staggering number of variables, this tactile arrangement means lots of trial and error, and patient discoveries.

Walth found if she makes tripod contact with the dent between her third and fourth knuckle, she'll be off target. But a half-inch lower, where the dent is less pronounced, produces a more accurate shot.

The couple also found it better to have the aiming system of tripod and foot markers in one piece to make minute adjustments consistent.

Competing in nationals is a dream for Walth. She won't come close to beating sighted archers. Her personal best score of 766 of 1,440 is well behind the 1,200 to 1,300 top archers typically score.

But it means she can compare her scores to other visually impaired archers and hopes to compete against them in a future Paralympic Games.

Walth never had normal sight. As a child, she was diagnosed with retinitis pigmentosa, an inherited disease of progressive vision loss due to the degeneration of retinal cells.

She sees no shapes, color or detail, just some shades of light through peripheral vision. Walth has a guide dog, Liza, and takes her mother's arm when they walk to the target.

As far as she and archery officials know, Walth is the only blind archery competitor in the nation.

Walth may lose a few arrows this week, and cringe when she has to rely on others to find them. But she wants nothing more than to be taken seriously.

"I don't want people to think that this is just a cute novelty," she said. "My goal is to be accepted as an equal."

CONTACT THE WRITER: 636-0259 or merijo@gazette.com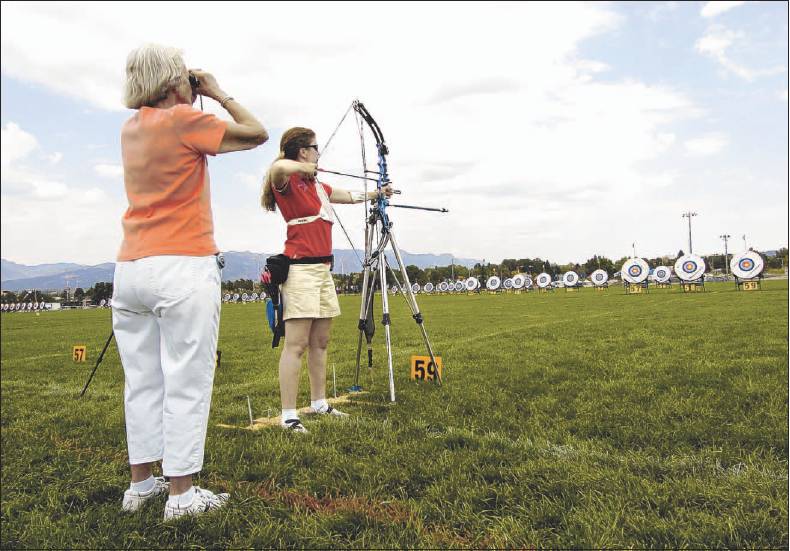 KRISTIN GOODE, THE GAZETTE

- Jacquie Unitt, left, kept an eye on her daughter Janice Walth's target Monday as Walth practiced for the Archery National Target Championships which begin today at Memorial Park. Walth, of Lodi, Calif., the only blind archer entered in the competition, uses a device consisting mainly of a tripod and boards to line up her shot with the target. The International Paralympic Committee has accepted archery as a sport for 2012.






PHOTOS BY KRISTIN GOODE, THE GAZETTE

- Janice Walth, left, the only blind archer competing in USA Archery's National Target Championships, followed her mother Jacquie Unitt off the field after recovering her arrows Monday at Memorial Park. Unitt is acting as Walth's spotter this week, telling her daughter where her arrows hit since Walth can not see the results herself.