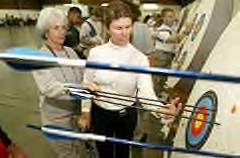 Christian Parley / The Fresno Bee
Eye-opening experience
Janice Walth's blindness hasn't kept her from developing skills in the field of archery.

Time to focus on some real football ... which team are you pulling for to win Super Bowl XL? Which teams would be the best matchup?
Sports Fan said: As a Patriots fan since 1976, of course I want to see the 3-peat! Not an easy task, especially the...
[
Join the talk!
]
TULARE — This is her routine in archery, one of the most visual and precise of all sports.
Guided by her mother's left arm, she shuffles her small white sneakers toward the tripod. Once there, and now left alone, she reaches with her left hand, grabs her bow, which had been leaning against the tripod, straightens with perfect posture and settles her feet against stationary markers below.
With her right hand, she takes an arrow out of her quiver, which hangs on her hip. She pulls the bow to full draw, her right hand nestled against her chin and the back of her left hand meeting a contact point on a tactile device mounted on the tripod.
This is Janice Walth's "sight." She feels. Others aim.
She releases the arrow and — thwack! — it rips through the blue ring of the multicolored target, a shot worth six points and arriving4 inches from the yellow bull's-eye in an 18-meter flight.
"It's coming together right now, wow, let's start again," she says, giggling, blind and ecstatic to be here Sunday in the Commercial Hall of the Tulare Fairgrounds.
The other 224 participants in the State Archers of California competition can see their targets. She cannot. And archery officials here say she's the only competitive blind archer in the United States.
"She's tremendous," says John Krueger of Riverside, who has coached archery for more than40 years. "I love to watch her shoot. Hey, you hear so many complaints from other archers: 'Oh, this didn't work; my bow isn't working right; or that isn't right.' She just gets up there and shoots. She stays with it, and that's great. You have to hand it to her. That's humbling to a person who sees and can't do that kind of thing."
Walth, 39, and an older brother, Brian, were born with retinitis pigmentosa, a degeneration of light-capturing cells in the retina that causes progressive vision loss. She and Brian — an attorney in Riverside — never experienced normal sight, unlike two younger siblings.
"We can't trace it," says her mother, Jacquie Unitt. "Nobody in the family had it and nobody has had it since, not cousins and lots of babies."
Today, Walth is having the time of her life in her second year of archery.
"I never did sports," says the Lodi resident, who has some light perception and can make out whether someone standing next to her is wearing a light or dark shirt. "I hate ball sports. They scare me. My dad taught me to water ski at 8, but I was never very athletic. What I like about archery is you compete against yourself. In team sports, you have to rely on other people."
Yet she's not without dependence.
She requires a spotter. And, this weekend, it's her mother. She stands 2 feet behind her daughter, using binoculars to identify the exact shot location. Her response is but three words after each shot: "Red, 2 o'clock." Or "Blue, 7 o'clock." Or "Black, 9:30." A "red,2 o'clock" call means Janice shot a bit high and to the right. And she responds to her mother by adjusting her elevation and direction with a subtle change of hand against the tactile sighting aid.
Janice, like the rest of the field, shoots 120 arrows — 40 rounds of three, or "ends" in archery parlance — over 9 hours in two days during the weekend. A perfect score is 1,200, meaning 120 10s. The best in this tournament is 1,140.
Janice scores 435.
"Last year I shot 478. I'm disappointed because I wanted to beat last year's score. And, since I have nobody else to compete against, I compete against myself."
Asked if she beat anybody, she says, "I may have beaten one of the 6-year-olds. I doubt that I beat many people, but I don't care."
Her mother adds, "She does her personal best, and that's where it is right now."
Walth is on a two-fold mission: improve her score to the point she's challenging the lower level of "sighted" archers; and, above all, promote the sport among the blind.
Walth and her husband of three years, Courtney Walth, discovered the tactile sighting aid technique from the Web site of the British Blind Sports foundation.
Her tripod arrangement and attached foot markers were partly designed and assembled by Courtney, a tile contractor. But just when he began to customize it too much in her favor, she resisted.
"I don't want an advantage over the sighted shooters," she says.
Courtney's been a "perfect companion," an archer who introduced the sport to his wife.
"It makes it really nice that we shoot together from the fact that no one's left alone, no one's left behind," he says. "She's good, very good, and I don't see her stopping. I really believe in a couple more years she's going to be shooting some high scores where she'll be tailing the sighted people. And she's already doing very well versus the British [blind shooters]. We get their scores through the Internet."
Walth is working on her bachelor's degree in adaptive technology for adults with disabilities. One of her challenges is developing archery among the blind.
"You can't just go to a blind center," she says, "and say, 'This is out there, you can do this,' if nobody at the center shoots archery. You have to know archery; the person helping you has to understand how archery works and be able to take you to practice.
"I'm no big deal, OK? But I want other blind people to know it's out there and available. However, it's up to sighted archers to accept it and to feel what I'm doing is legitimate compared to what they do. My form is the same as theirs. The only difference is how I'm sighting in. They're the ones who have to teach it."
Walth, meanwhile, continues to win medallions at every competition.
"I always get an award because I'm the only one in the category," she says. "But this year I decided if I didn't beat my last year's score I wouldn't accept it. It's ridiculous just to accept a medal, that's not me; I want it to be for a reason."
Finished on this day in Tulare, she helps Courtney pack their equipment, then bends and offers love to her guide dog, Liza, a 3-year-old yellow Labrador retriever who's been resting without a whimper for 5 hours on her personal blue rug.
Janice attaches her to a leash and shuffles out of the building, a full calendar of competition forthcoming in Las Vegas and California.
"I hope to be competitive some day with sighted women, the ones who aren't that good," she says. "Now there would be a lot of people that say that's not possible, but I would love to think I could. That's my goal."
The reporter can be reachedat aboogaard@fresnobee.com or(559) 441-6336.